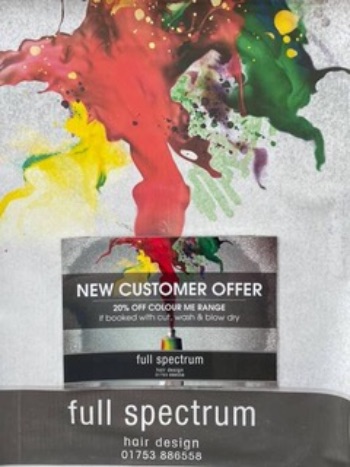 Offers & News
Pamper Package
Enjoy a weekly wash and blow dry. Buy 4 and receive 10% discount, includes a luxury 'hair on scalp' treament.
A gift to yourself or a friend.
All new customers receive

20% off the
ColourMe £ range
when booked with cut, wash and blow dry - subject to availability
Introduce a friend
to full spectrum and you will receive a voucher for a free Black Caviar luxury hair treatment. You can spend this with us at any time. To ensure you receive your gift please ask your friend to quote (Friend Offer) when booking .
-------------------------------------------
When you visit:
To keep us all safe clients and staff will continue to be asked to wear a face mask in the salon.

We ask that you do not pay in cash.
Please pay using credit or debit card or using other cashless options
(ie Apple Pay or Google Pay).